Education and prevention
As a practice, we are true believers that preventative care and education are the keys to optimal dental health. We strive to provide preventative care versus disease care. That's why we focus on thorough exams, checking the overall health of your teeth and gums, performing oral cancer screenings, and taking x-rays when necessary. We also know that routine dental hygiene visits, sealants, and fluoride are all helpful in the prevention of dental diseases. Not only are we focused on the beauty of your smile, we're also concerned about your health. A review of your medical history can help us stay informed of your overall health.
Our Services
Roll over the images to reveal description
Cosmetic Dentistry
Would you like to make improvements to your smile? Our dentists will work closely with you to determine which treatment is best to achieve your ideal smile. Whether you want to remedy a gap in your bite or remove discoloration from the surface of your teeth, we have the technology and expertise to improve your teeth's aesthetic appearance and functionality.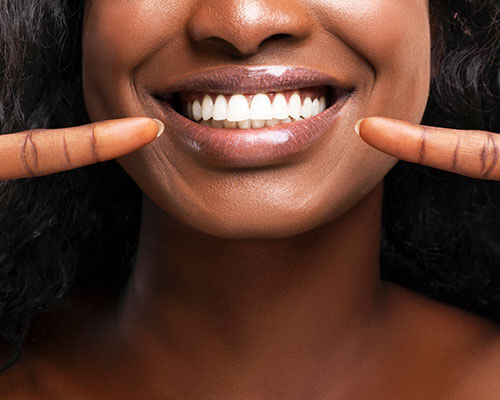 Teeth Whitening
Did you know that sometimes brushing and flossing is just not enough to keep your teeth white and bright? If you are unhappy with the color of your teeth or your teeth are stained from your lifestyle choices, the dental professionals at Cayman Dental can help. We offer either our in-office whitening procedure or our professional take home whitening kit.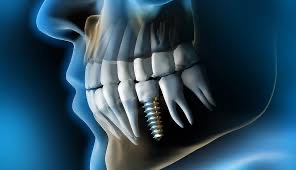 Dental Implants
Are you missing one or more teeth? Dental implants are the most permanent, natural-looking solution for missing teeth. Dental implants replace the root of the tooth and keep your jaw from shrinking due to bone loss. All of our dental implant procedures are performed by our American board certified specialists.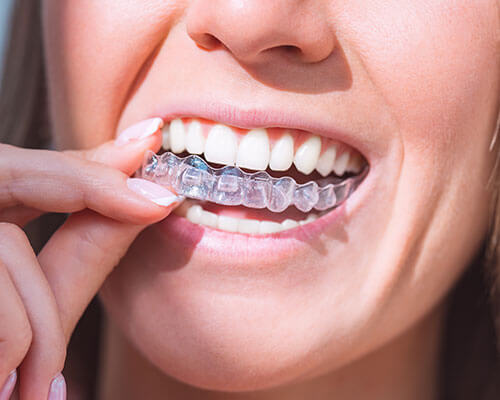 Invisalign
Straighten your teeth with clear invisible braces. Invisalign is an orthodontic option to conventional bulky wired braces. It essentially consists of clear, custom trays that can gradually and slowly guide the teeth into proper alignment when worn for approximately 24 hours every day.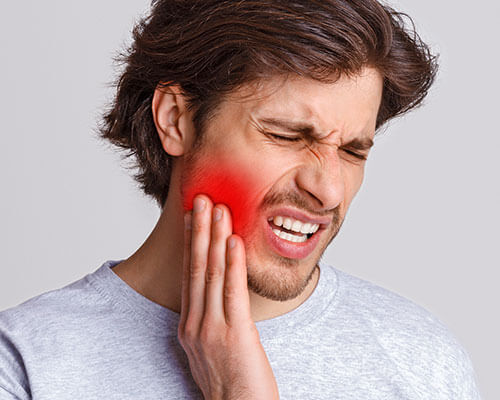 Emergency Dentistry
Do you have a toothache that requires urgent treatment? When dental emergencies happen, Cayman Dental will strive to provide the following emergency services: toothache pain relief, emergency extractions and emergency root canal treatments. We are available 6 days a week with evening hours to accommodate your busy schedule.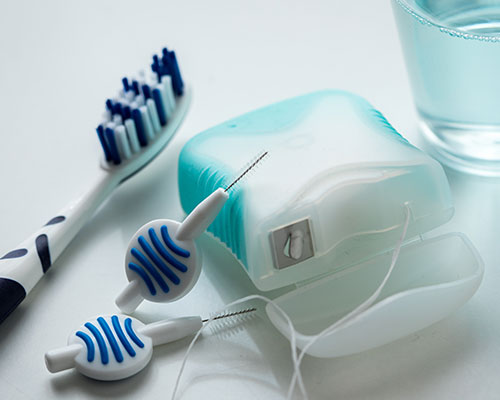 Dental Hygiene / Preventative
Regular dental check-ups and dental cleanings are not only vital to your dental health, but to your overall well-being. Medical studies link oral health to general health. The American Dental Association recommends that you visit the dentist every 6 months for a routine oral examination & dental cleaning. Our team of qualified dental hygienists are here to assist you with your oral hygiene care.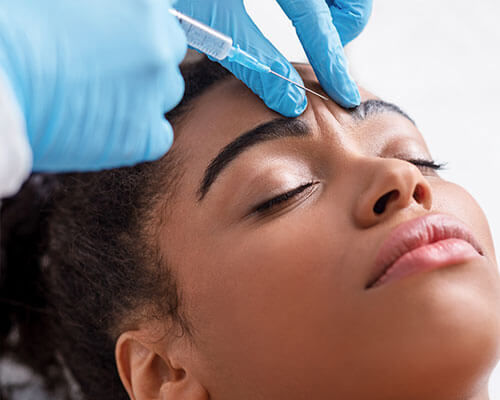 Dermal Fillers
Wrinkles are one of the most obvious signs of aging and, unfortunately, they occur naturally as we grow older. Our services are designed to relax the facial muscles underneath the skin to create a smooth and refreshed appearance. We can reduce wrinkles by stopping the process that leads to their creation, giving your skin the chance, it needs to soften and minimize the appearance of fine lines. Our services can even help treat the symptoms of migraine headaches and TMJ pain. We also offer a variety of dermal fillers and skin boosters to keep your skin taut and rejuvenated.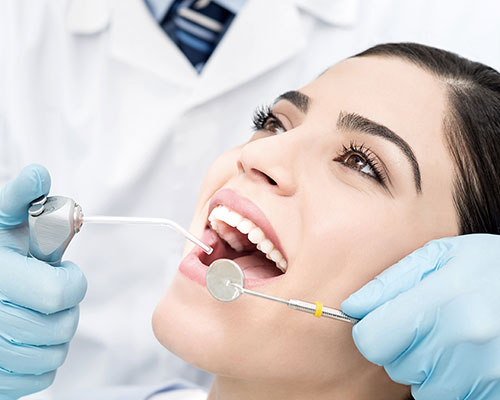 Periodontal (GUM) Disease Treatment
Have you experienced bad breath or a bad taste in your mouth? You or your loved one may be suffering from periodontal disease or periodontitis. An infectious and inflammatory disease which can destroy the gums, as well as the bone that support your teeth. Untreated , can require periodontal surgeries or even worse, lead to tooth loss. Our team of dental hygienists will help manage the periodontal disease by implementing a customized treatment plan made for each patient to help eliminate infection of the gums and root surfaces. More advanced periodontal procedures are performed by our visiting board certified periodontist.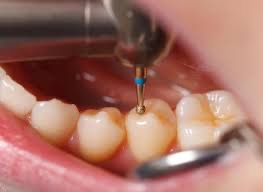 General Dentistry
No matter what dental services you need, we will always tailor our care to fit your individual and personal needs. From regular dental cleanings to advanced restorative treatments, all of your routine dental needs can be met here. We offer multiple dentistry services for the whole family including, routine check-ups, tooth-colored fillings, inlays & onlays, crowns, dental bridgework, porcelain veneers, dentures, oral cancer screening, root canal therapy and extractions.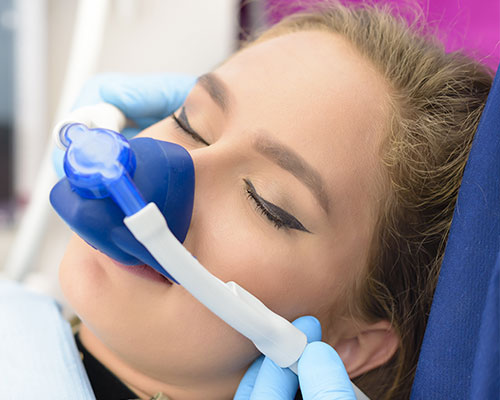 Sedation Dentistry
For many people, dental work can cause anxiety and fear, which can lead to putting off necessary dental visits and increased worry about your next exam. Scheduled appointments, dental emergencies and routine cleanings do not need to be a cause for alarm. We offer effective sedation dentistry to our patients. Whether it be oral sedation, nitrous oxide (laughing gas) sedation, or conscious sedation, we have the options to make you feel relaxed and confident at your next visit.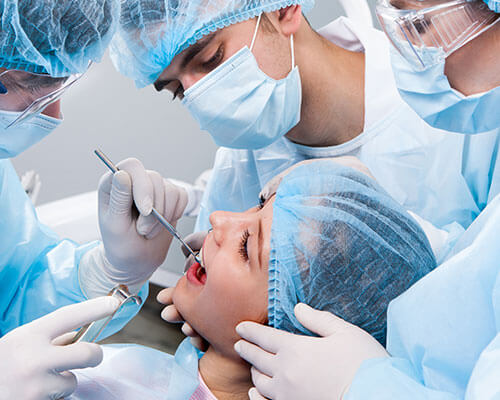 Oral Surgery
Managing a wide variety of problems relating to the mouth, teeth, and facial regions have always been our top priority. Our professional team, alongside our board certified oral surgeon, provides a full scope of oral and maxillofacial surgery options with expertise ranging from corrective jaw surgery, wisdom teeth removal, bone grafting, dental implants, sinus lift and many more specialized procedures.
LANAP Laser Gum Surgery
Traditional gum surgery is a thing of the past. With Laser-Assisted New Attachment Procedure (LANAP), your periodontist will use a laser to target and remove diseased tissue. This means that you won't need to worry about scalpels or painful gum tissue removing procedures. Instead, LANAP provides a far less invasive procedure with faster recovery time.